Happy Place Products announces the world premier of The Go-Go Glider, a new pleasure product for couples. The launch will take place by way of an Indiegogo campaign which will begin on January 20th, 2015. The Go-Go Glider will also be demonstrated at the AVN/ANE convention in Las Vegas to be held during January 21-24, 2015.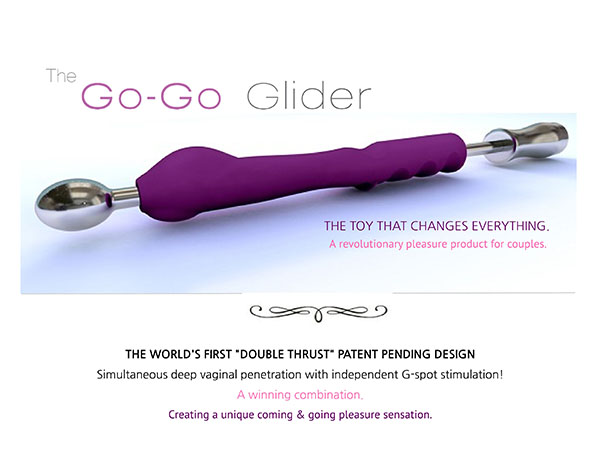 What is The Go-Go Glider?
It is the only pleasure product which uses the patent pending double thrust design. This unique feature means The Go-Go Glider is the only pleasure product that allows for deep vaginal penetration while simultaneously allowing for independent stimulation of the G-spot.
How it works?
The other unique aspect of The Go-Go Glider is that it is primarily designed to allow one partner to utilize the product in the pleasuring of his/her female partner. This means the "receiving" partner will be allowed to completely relax and enjoy or grab her favorite hand-held vibe as she is treated to an amazing sexual experience. Because the G-spot stimulator and tip are independent, she will experience two separate sensations which has been described by one tester as an unbelievable "coming and going" sensation. Another tester described the experience as "an awesome, orgasmic massage for my G-spot".
The unique couple feature creates a level of unparalleled intimacy. Communication is key as different speeds, pressures, and rhythms are experimented with as each erogenous zone is pampered. When a great sex toy is used intimately by a couple, it creates a wonderfully fulfilling experience for both the partners.
Dimensions:
The entire product is about 19.5 inches in length but the "insertable" portion is only about 6.5 inches with a 1.5 inch girth. The G-spot stimulator is made of a body-safe silky-smooth platinum grade silicone.
And the Price:
The polycarbonate version of The Go-Go Glider will retail for $119.99 and the stainless steel unit will retail for $149.99. Discounted units will be made available to the public by way of our Indiegogo account beginning January 20th, 2015. Our Indiegogo campaign can be viewed at http://igg.me/at/Go-GoGlider
Just to add a bit of sugar to this machine, we would like to share a quote by well known thinker Oscar Wilde who once said, ""Everything in the world is about sex except sex."