Ramesh Raval is a name which is more famous in lions than the humans! Yes, this can be true in sense of his devotion to lions for last 35 years. The nature and environment lover.  His love towards lions is so strong that he says "I must see a lion everyweek or else I can't even eat!".
On 20/08/1995, he has been featured in one of INDIA's very famous television programs, which was broadcast from Doordarshan known as 'Surabhi'. Not only that, single handedly he has harvested 50,000 plants of 'Khakhar' (a kind of wild tree – butea frondosa) in Una Taluka, of Gujarat state.
By birth, a Brahmin, but by acts a very brave man, Ramesh Raval has dedicated over 20 years to study the life style of Lions in Gir National Park which is in Junagadh district of Gujarat, the only lion sanctuary in entire Asia continent, where we can get to see Asiatic lions.

He has wandered in the Gir jungles for 10 years and has gathered many useful and interesting information about the lions. Not only he knows lions, but even lions know him! Through the main language of 'Hukvo', he gets familiar with lions and makes friendship with them.

He can easily understand what exactly a lion is telling through the expressions.



Through the movements of lion's eyes, ears and tail, he can easily make out whether lion wants get acquainted with or not. And if lion gets agitated, he waves its tail thrice, and still if we do not understand, the fourth time he strikes. So many tiny details he has noted during his research on lifestyle of lions.
During his research on lions, he has witnessed various activities of lions' lifestyles such as their eating, sleeping, playing with cubs and even sexual intercourse. It might sound funny but when he is in good mood he calls up lion by saying 'Aey, Amitabh' and to our surprise, lion stops by hearing these words, like it has heard these words from a relative!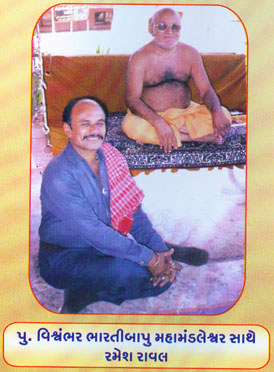 Ramesh Raval says "Lion is the symbol of bravery. If you stand up against it with equal bravery, it won't harm you. But if you try teasing him and run away, you confirm your death. The lion never zaps suddenly. If a lion is nearby you and you stand in the opposite side of the wind so as the lions gets your body smell, you confirm your friendship with the lions."
Once, during the population counting of lions in the sanctuary he went with the photographer Bhati N. and Bhavanagar's Shivbhadrasinh. A lion attacked on him and he fell down. He says, "I would never forget this experience in my life." When we ask him "Don't you get scared of such wild and dangerous animal like lion?", he instantly says with bravery shadow on his face "The lion that has provided me this much fame, if kills me, is truly welcome".
So after the intensive research on lions, Ramesh Raval wrote and published a book under the name "Sinh Jivan Darshan", which he re-wrote 8 times to make sure no mistake or wrong information remains in it. And this book was highly welcome by the readers. And in fact, this is the only book of its kind available in market. He is also serving as Animal Welfare Officer for Indian Government. So when it comes to lions, Ramesh Raval's name is first remembered in the state of Gujarat, and we can also say in entire Asia continent, because nobody has ever researched this much on lions and published the book on the same.
This might sound like unbelievable. Those who are Hindus would be very well familiar with 'Hanuman Chalisa', a series of mantra reciting Lord Hanuman's character of bravery, which consists of mantras written in Sanskrit language. Would you believe if you come to know that someone has prepared a 'Sinh Chalisa'? Mostly, we won't, but after reading this much about Ramesh Raval, it would be easy for us to know that he has prepared 'Sinh Chalisa', which consists of many Sanskrit mantras describing the character and bravery of lion. A must read for all. It is written in Gujarati. The shlokas are written by Dr. Narendra Raval and he has also arranged music for the same for the video version. It is a must watch CD for all the lion lovers, as he has nicely composed the Mantras with various scenes of lions.
Various print and electronic media has taken note of Ramesh Raval's madness or crazyness about lions. Print medias like Divya Bhaskar, Gujarat Samachar, Aaspas, Phulchhab, Jai Hind, Sandesh, Chitralekha, Kutch-Mitra, Aajkal, Mayurbhumi, Navsarjan, Halwad Mitra, Navyug, Sorath Jagruti have published full fledges articles on Ramesh Raval's love and service for lions. Electronic medias such Zee TV and Doordarshan has taken note of his adventurous.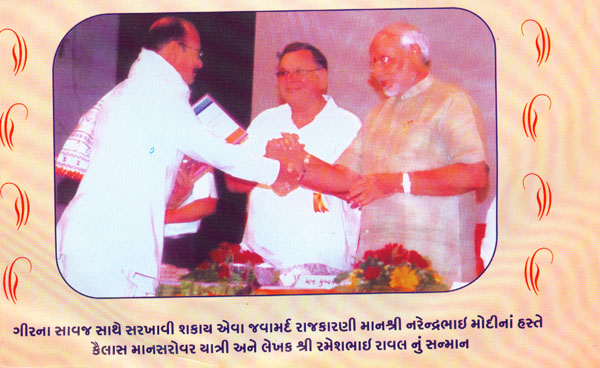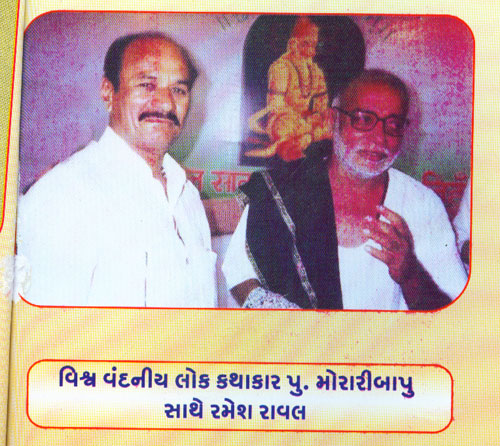 Various leading personalities has inspired Ramesh Raval's achievements. To name a few, Narendra Modi, the Chief Minister of Gujarat, Rameshbhai Oza, the leading Bhagwat-Kathakar and various officers of Forest Department.
He has also written a book for his city DIU with the title 'DIU DARSHAN', which contains total information on various places to see in DIU, hotels, the beach etc.
He has traveled across the Gir Jungle on his motorcycle, and also with family he has traveled 300 kms. to spread the awareness about lions.

There are many interesting stories associated with Ramesh Raval and lions. One day, he was passing through the jungle and he saw a lioness.

He started following it. For some metres, lioness didn't recognize that someone was following her, but later knowing someone is following, she turned back started running towards Mr. Raval.



Now under this situation, most of us will start running, seeing the death itself running towards us, but Mr. Raval has this stick in his hands which he started hitting on the ground and making the special voice known as 'Hukvo' or 'Kukvo'. And lioness stopped as she recognized this voice, which tells that this human is not an outsider!!
By profession he is a teacher and teaches the language Sanskrit in DIU. The name of his home is 'Sinh Darshan' and this tells us his intensive love and interest for the lions. In the board exams, very rarely result of his students for the language has come below 100%. This way he is also a successful teacher.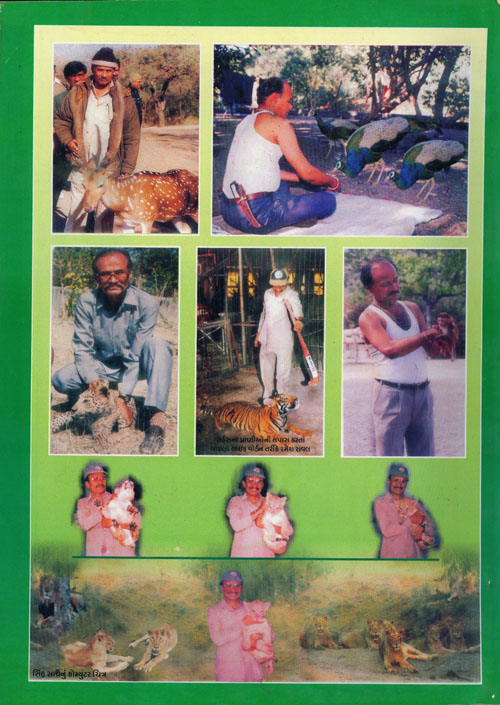 And let me tell you that, all these details is just the introduction about him. To know more about him, you can read his book 'Parichay – Ramesh Raval – DIU' which consists of so many interesting stories about him, his encounters with lions, people's take on him, photographs with various leading personalities, his visit to Kailash – Mansarovar and much more.
—————————————————————————————————
He can be reached at:
Ramesh Raval
Sinh Darshan
DIU. INDIA
Cell: +91 98259 96254