The first mistake that I made interviewing Vinod Bhatt, and he caught me instantly was calling him Vinodbhai Bhatt!
He instantly interrupted me saying "Call me 'Vinod Bhatt'. Calling me Vinodbhai Bhatt is like calling Johny Walker as Johnybhai Walker!". And thus started the interview.
Upon my asking "How and when your career as a humorist writer started?", he instantly replied saying "First of all, writing isn't a career for me, and if it is, I just came to know from you today!". His such full of humor replies were making the moments very much live.
He started writing on humor from his college days. His first article was published in June, 1956 in magazines Navchetan and Yuvak.

For 10 years he wrote randomly in various magazines and such and for last 43 years he is writing for regular columns in newspapers. For 32 years he wrote for 'Sandesh', 8 years for 'Gujarat Samachar' and presently writing for 'Divya Bhaskar'. He specifies a spacial word for all the years he has written as 'Vinod Yatra'.

"Unlike plays, it is difficult for a writer to know the response of his readers. Sometimes, the readers even turn the page reading name of Vinod Bhatt!.



And knowing that my writing has youth readers, even my elderly feels like being young.", adds Vinodbhai with sense of humor.
Knowing his favorite writers was a question from us and he replied saying "I have three favorite writers. One is Vinod Bhatt, second is Vinodbhai Bhatt and the third is Bhatt Vinod, I'm very much impressed by these three writers!!". And curiously enough he adds saying that "He dislikes the writer Vinod Bhatt sometimes thinking what he has written this, seeing some of his articles."
I was caught again by him when I just started asking like "How was your experience being the President of Gujarat Sahitya Akadami?" He nistantly replied saying that it is not Gujarat Sahitya Akadami, but Gujarati Sahitya Parishad.
Well, Gujarati Sahitya Parishad was established before 100 years by Ranjitram. It is interesting to know that Mahatma Gandhiji himself stood for the presidency for the very first election of Gujarati Sahitya Parishad, and he lost against Kantawala!
Vinodbhai says "In my case, my opponent cleared the way towards being the President by leaving the election.  Hence I was elected the President of the same. The opponent was Dr. Ramanlal Joshi. Not because of his respect for me, he left the election but because of the fear of losing, he cleared the way."
There is a very interesting story associated with him while he was serving the Parishad as President. He says "We never know that, with whom we studied would play a part in our future also. There is this idiom "Olkhan ae Khan chhe". So when I used to study in college (I can't exactly say I used to study but used to go to college!!), Shankar Singh Vaghela was in the same college, couple of years after me. And slowly slowly, we both came into same standard, not because he was cleaver but I was dumb and my failure in exams made us the same class!!! So that way we became friends. And then what happened is that, I became the President of Gujarati Sahitya Parishad and he became the Chief Minister of Gujarat.  Upon one meeting, he asked me that let me know if I can be of some help, Bhattji. So went to meet him seeking donation for the Parishad for Rs. 50,00,000/-. He said, it is not possible to donate Rs. 50,00,000 but Rs. 51,00,000/-, and he donated. Generally, ministers give fake promises, but this was an exceptional case! This incident reminded me of the friendship of Lord Krishna and Sudama. This was the biggest achievement for Parishad in the period of last 100 years, since its inception.", says Vinodbhai.
Vinodbhai also tells a very humorous story of this donation. He says "Raghuvir Chaudhary was in the Parishad then. Before depositing this donation check in the bank, he asked me that how many zeros are there in 51 lakhs and what is the spelling of lakhs?!! I said that, when we received the donation, there were five zeroes after 51, check now how many are there? Well, it was given by a minister, so we can't be sure!!"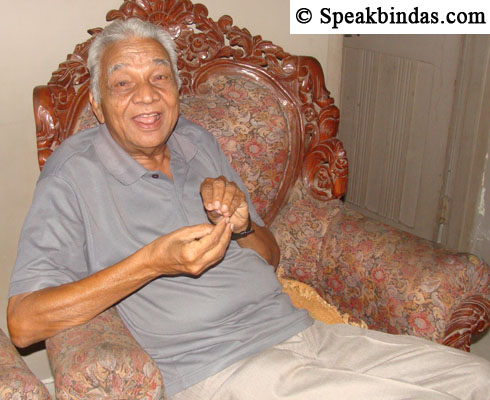 "In a serial write up 'Vinod ni Nazare' in magazine Kumar I wrote about Chandrakant Bakshi. Now before he didn't know much about what I had written, but as his friends asked him to read between the lines, he was very much agitated. And after reading that he said that Vinod Bhatt has cheated me by writing this article. His anger reached to its extreme when he said that it is tragedy for Gujarati literature that Vinod Bhatt is a humorist."
And the interview ends with a special message from Vinod Bhatt. He says "Duniya ma badhu hasi nakhava jevu nathi hotu".
And here is the VIDEO of INTERVIEW.
Part 1
Part 2