Sometimes, some unbelievable things happen in our life. Like, I had never ever thought of meeting Tarak Mehta personally at his home, and taking his interview was out of dreams as well! But it all came true. It was the fine Friday evening of 3rd April, 2009.
Tarak Mehta has been writing his very popular Gujarati column Duniyane Undha Chashma which is published in weekly Guajrati magazine Chitralekha. I have been reading it since last 7 to 8 years.
Characters like Tapu, Jethalal, Rasik Surati, Popatlal, Champaklal, Jivan Darji, Daya, Ranjandevi, Vanko Vibhakar, Boss Babulal have a realistic presence in my imaginations, and I'm sure rather confident that it is the same feeling of his fans.
Thanks to Pallaviben Mistri who introduced Tarak Mehta to me, otherwise, this wouldn't have been possible at all.
So let's cherish the moments that I shared with him on behalf of all his column fans. When I asked my first question that when and how his writing journey started?, he started his answer with a laugh saying "It's a long story. My autobiography contains two parts exclusively for this answer. There is no such a definite date when I started writing. Also, in the early young days, I used to make my friends laugh, and then came the awareness that I can write too. During the youth, we mostly feel to write poems! But slowly I felt that laughter and humor has a vacuum, very few people write on it. I guess, my articles started publishing when I was 21 years old. "
We also met Induben, Tarak Mehta's wife. I must admit that, her hospitality was quite special to us. Like, she showed us various rooms of their home, having treasured their old memories in form of photographs, canvass paintings and books room. The snack containing Khaman, Samosa, and Tea was indeed delicious. To me, Induben seemed quite a person of peaceful nature and very supportive to Tarak Mehta. When we asked Tarak Mehta about Induben's contribution in his writing career he says "Whatever I write, I make her read first before sending for publishing. Because as I mostly write during nights, chances are of some mistakes in writing, may be break in continuity of the plot, hence everything works on her criticism. SHE IS MY FIRST CRITIC." He is 79 years old now, with 80th running. He says "I still have the enthusiasm to write regularly as I used to write earlier, but now it's getting hard to compete with enthusiasm through writing."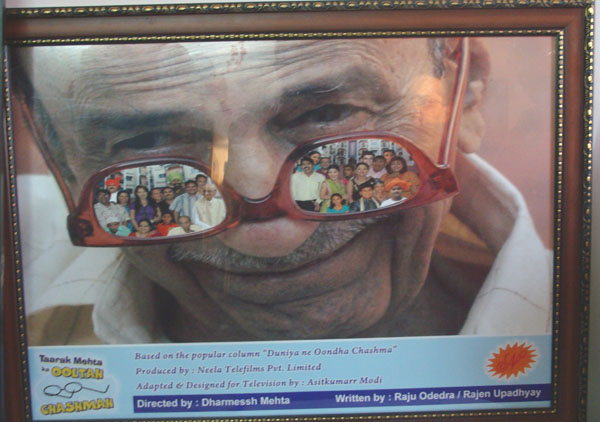 Every artist's real earning is the acceptance of their creation and art by the people, same way Tarak Mehta says "My first feeling about my writing was for its acceptance, and then of responses from readers and now it's a craziness! My column Duniyane Undha Chashma has completed 38 years. And if we look the generations, today the fourth generation in raw is reading my articles. And now because of television serial Tarak Mehta ka ulta Chasma, new generation is watching it. And let me tell you that, now a special groups of fans exist who have started reading my column, after watching the serial first on television, which is a new freshness, a new angle rather. "
Now that Tarak Mehta ka ulta Chasma too has become very popular, we asked him that whether he belives that the characters that he has imagined in his column such as Jethalal, Tapu, Champklal etc. are reflecting in the exact way in the television serial too?, Tarakbhai says "No. The old addicted readers of column couldn't accept easily the characters being performed in serial. But now they are getting used to it.  In the beginning there was resistance, but after 20 to 25 episodes, they started accepting it." Tarakbhai said a very interesting thing that after watching his tv serial, kids studying in convent schools, started learning Gujarati languages and their parents called him saying thanks for the indirect inspiration to learn English. I think, this tells the popularity of his creativity. Four generations have read him and still reading. If I say personally then, my dad and my uncles read his column regularly and me too, so for me, I can say that our two generations have and still reading him.
Induben has a very active contribution in the writings of Tarak Mehta. Like, in many articles, he has written about some trip to Goa and other places, some cooking class experience etc. etc. What happens is Induben, joins such various classes and learns about it, then shares her experience with Tarakbhai, and from that Tarakbhai writes on. Like Tarakbhai says "When we go for a trip, she notes various points about the trip and places by herself only. I also suggest her my points." Tarak Mehta has announced that he is getting retired from Public life starting from 1st March, 2009. Now that, his eye sight is not that well, and during public functions, and in recording studios, lights come up on his face, which he can not bear now.
HERE IS THE VIDEO OF INTERVIEW OF TARAK MEHTA
Part 1
Part 2