There was a time when dawn used to begin with the crow of a rooster ! Now the time has changed. For many of us, morning starts with a cup of tea or coffee. That sip of morning beverage gives us the feeling of fulfillment and makes the morning brighter. Good news has come across for you in form of Beveragewala which offers premium tea and coffee brands which in most cases either not heard or tasted by us.

Beveragewala is an exclusive e-commerce platform which provides premium beverages right at your doorstep.
They have realized that with the effect of globalization in India, people could come across various brands from world-over but the pace is slow and hence it would take quite more time for many other brands to reach to you and be a part of your routine lifestyle. To become a bridge between people open for new brands and the brands that are yet to hit the market they are dedicated to supply premium brands of beverage, and delivered for free on the order of Rs. 750 and above.
Most of us are used to the same brand for years when it comes to Tea or Coffee. Of course, somewhere in between we did change it and tried others but there are number of premium brands that we are yet to taste and make our morning Aahladak, amazing !
Beveragewala provides a range of these beverages. For Tea, they have Black Tea, Flavoured/Infused Tea, Green Tea, Oolong Tea, Flower Tea, Iced Tea, White Tea, Herbal Tea & Red Tea where for Coffee, they've Filter Coffee, Espresso Coffee, Green Coffee, Robusta Coffee, Decaffeinated Coffee, Hot Chocolate, Arabica Coffee etc. Some of the Tea brands offered by them are: BASILUR, CLIPPER, MLESNA, 18 HERBS, ARYA, BUD WHITE, BIO FOOD, CAMELLIA , TWIGS, CHAMONG, CHAMRAJ, GOLDEN TIPS, GOODRICKE, HIMALAYAN AMRIT and Coffee brands are: NESCAFE, ILLY, DANESI, DAVIDOFF, TYPHOO, HINTZ, SUSSEGADO, LAVAZZA, ALIVE, DEVANS, CLIPPER COFFEE, GIRNAR COFFEE, VEDA COFFEE and CONSCIOUS FOOD.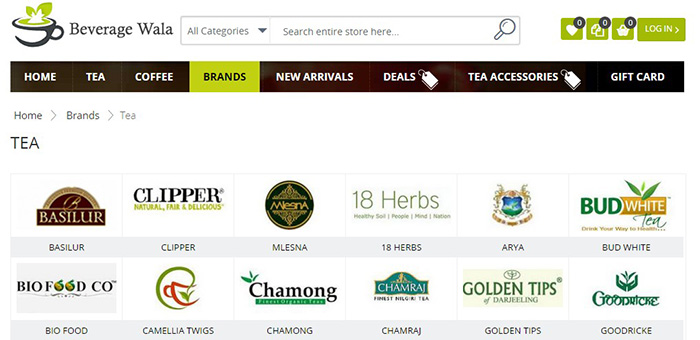 Beveragewala.com website is easy to surf through and displays a range of Tea & Coffee with detailed information.
Their effort is unique and brings a smile of the face of Tea & Coffee lovers !