India is a country of different cultures throbbing under the roof of one culture ! Be it language, food and clothings. You visit a different and these cultural aspects change, still you're in the same country ! It is indeed incredible. And people of different parts of India can be identified from what they are wearing. This makes India a country of fashion in its own sense.

Now with the emerge of e-commerce in India, platforms like MyDesignerSales.com are taking the fashion of India to next level by promoting the new age style. It is an online store where Men and Women can find the style that speak for their personality. An intriguing part of MyDesignerSales is it's unique concept of showcasing clothings and other fashion products designed by designers who are located at different parts of the country ! For fashion crazy youth the thought of having the opportunity to be able to shop not only the variety of fashion but also variety in designers is indeed lucrative.
Site is designed with very specific categories for you to look for your fashion such as JUST IN, WOMEN, MEN, ACCESSORIES, DESIGNERS, FASHION STORES, GIFTS and SALE. The first category lists the new arrivals with mention of price range, name of designers, size, color, fabric and gender. Such detailed options make your search very easy and saves time. WOMEN category is again divided into sub-categories such as Ethnic (Lehenga, Sarees, Anarkali, Churidar, Salwar Kameez), Casuals (Jump Suits, T-Shirts, Tops, Tunic, Kurtis), Formals (Shirts, Skirts, Pants), Evening Wear (Gowns, Dresses), Add-Ons(Shawls, Jackets, Footwear). MEN category is also varied in the products offered such as Clothing (Formal Shirts, Casual Shirts, Jackets, Trousers, T-shirts), Accessories (Wallets, Ties). Accessories section has a list of fashion items which are hard to resist such as Ad Ons (Earrings, Necklace, Rings, Scarves, Footwear, Bracelets, Bangles, Headband), Bags (Clutches, Sling Bags, Potli Bags, Laptop Bags, Wallets), Electronic Covers (IPad Case, Mobile Covers, Passport Holder, Tablet Covers).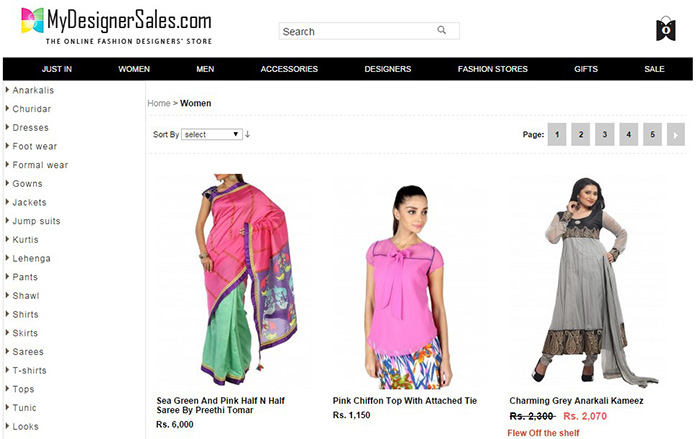 MyDesignerSales.com also provides the search option by name of the designer (already listed on their website) and Online store. This again makes it easy to find if you're looking for a specific one.
Fashion can not be described by words. Style is all about expression. Hence it can only be felt and understood if you see it yourself. There is so much to it. Variety of colors and shades, look, design, material and what not ! And hence, give the site a visit and enjoy shopping the unique style which is just made for you.