Farhan Akhtar is all over electronic media these days with his latest show Oye! It's Friday on NDTV Imagine. As a host, he is proving to be excellent.
He has already invited and interviewed bollywood jumbos like Aamir Khan, Shahrukh Khan, Katrina Kaif, Priyanka Chopra, Hrithik Roshan, Deepika Padukone, Ranbir Kapoor and music directos Shankar, Ehsan & Loy.
Show is doing excellent with versatility with interviews, jokes, comedy sequences and live performances.
Farhan started his career in bollywood with a cap of director. His first movie as a director – Dil Chahta Hai – was a superhit starring Aamir Khan, Saif Ali Khan and Akshay Khanna, a story of youth, their struggle, love drama and much more. Nobody knew about Farhan at that time, or those who knew him knew as a movie director only. He then directed Lakshya starring Hrithik Roshan. Commercially it wasn't a superhit, but he again proved his talent as a director. Then he made the remake of DON – The Chase beings again, starring Shahrukh Khan. As a director, he truly has reserved his place in bollywood directors' colony. At such an young age, he has given three outstanding movies.
Being Son of legendary lyricist and poet Javed Akhtar, he had filmy atmosphere at home. He started his career as a director. Javed Akhtar has written songs in all his three movies. And they were real hit with music given by Shankar, Ehsan & Loy.
He has also produced bollywood movies. So far his list as a Producer contains, Don – The Chase Begins Again (2006), Honeymoon Travels Pvt. Ltd. (2006), Rock On !! (2008), Luck by Chance (2009) and Kartik Calling Kartik (in production).
He has also tested his hands in story writing in movies like Dil Chahta Hai (2001), Don – The Chase Begins Again (2006), Luck by Chance (2009). It truly shades light on his talent as a creative story writer. Very few people know but he has given lyrics for movie Bride and Prejudice.
But he rocked everybody with his movie Rock On (2008) with his singing skills. He sung five songs in Rock On!!. His voice differs from others. Listeners feel depth in his voice. And his songs were a hit too. Youth really loved it, cheered it.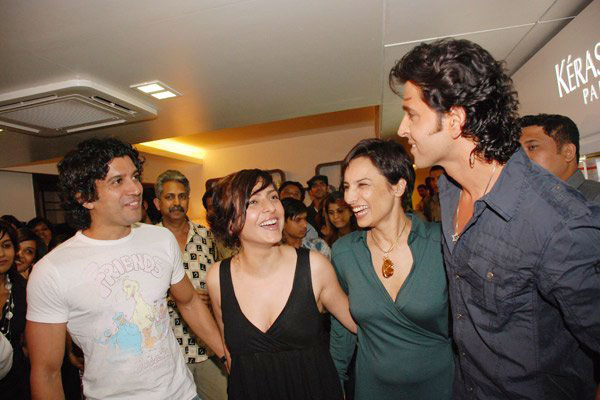 And now he is rocking himself and everybody with his solid acting skills. He acted in movies like The Fakir of Venice (2007), Rock On (2008) as Aditya Shroff,  Luck by Chance as Vikram Jai Singh, Kartik Calling Kartik (in production). From this list I have seen two, Rock On and Lucky by Chance. He was outstanding in Luck by Chance. He plays a character of a struggling actor in this movie, which he has successfully performed. Now, because he belongs to a bollywood family, he never had to struggle in his real life as an actor. But in Lucky by Chance, which is directed by his sister Zoya Khan, he has played the character of Vikram Jai Singh damn perfect. Every frame is worth watching.
Bollywood Awards
He has some awards too in his pocket.
– 2002: National Film Award for Best Feature Film in Hindi: Dil Chahta Hai
– 2002: Filmfare Critics Award for Best Movie:  Dil Chahta Hai
– Filmfare Best Director
o 2002 – Nominated (Dil Chahta Hai)
o 2004 – Nominated (Lakshya)
– Filmfare Best Screenplay
o 2002 – Won (Dil Chahta Hai)
– Star Screen Awards Star Screen Award for Most Promising Newcomer – Male
o 2009 – won (Rock On!!)
Farhan Akhtar has proved himself in every field he worked in. He is a director, producer, actor, singer, writer and now a TV program host. He has been successful in each job he took on his hands.
Bravo! Farhan.
——
Note: Images have copyrights of respective owners.