You can never go wrong when you wear a Salwar Kameez. It is one of the most beautiful, elegant outfits Indians have ever worn. It is such a versatile outfit that you can wear one to a party, a wedding or to an office. You will feel comfortable and pretty in one, that is indeed a rare amalgamation, as comfort rarely juxtaposes with style. Not when you wear a salwar kameez, though.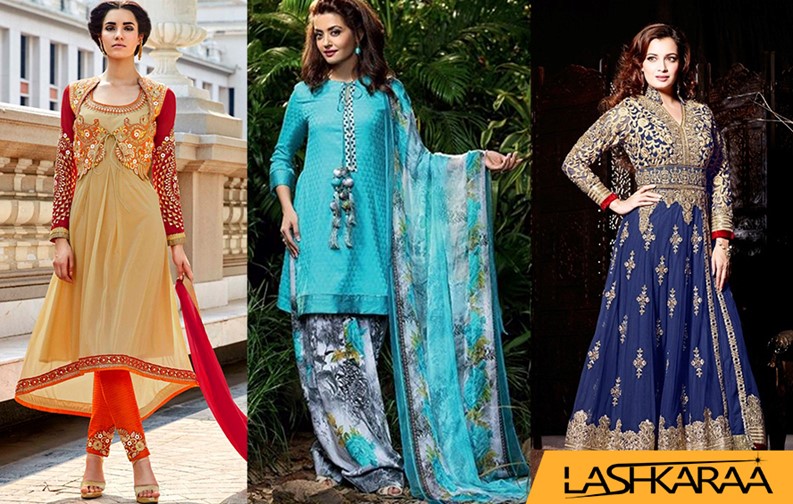 Top trends in Salwar Kameez
If you are planning to buy a salwar kameez for any upcoming occasion, you should look online as you can shop within the confines of your comfortable home.  You can browse through thousands of styles, never having to jostle and push in a store or a mall. Now isn't that great? Before you click your mouse, just check out a few top trends which are ruling the fashion world.
Sharara salwar: Fashion has a strange knack of coming back time and again. It ruled the hearts of the women in the sixties and is again back in vogue. If you have a keen eye for fashion, you will see most Bollywood celebrities sporting it to various traditional functions and parties. Wide-bottomed and flared, it looks retro and all glam! Wear it with a short kurti, so that your sharara does all the talking. You can buy this salwar kameez online with ease.
Anarkali- An anarkali suit is indeed a fashion comet that had hit us hard and still has us reeling under the stupor. Its simple silhouette makes us look oh-so-glamorous. Flowing and form-flattering, you can wear it to look glamorous at any party.
Long Jacket style kurta- A beautifully embellished jacket style kurta can give a very contemporary and edgy vibe. Wear it with pants and let your attitude speak for itself.
Slit kurtas- This is the latest style, which is knocking the right doors of all fashion corridors. With side slits or front slits, your palazzos and pants play hide and seek from the folds of your long kurta. It looks very stylish and gives you a very bohemian vibe. Nurture your adventure streak with this beautiful kurta and you are never going to put a wrong foot forward. It is indeed one of the best salwar kameez.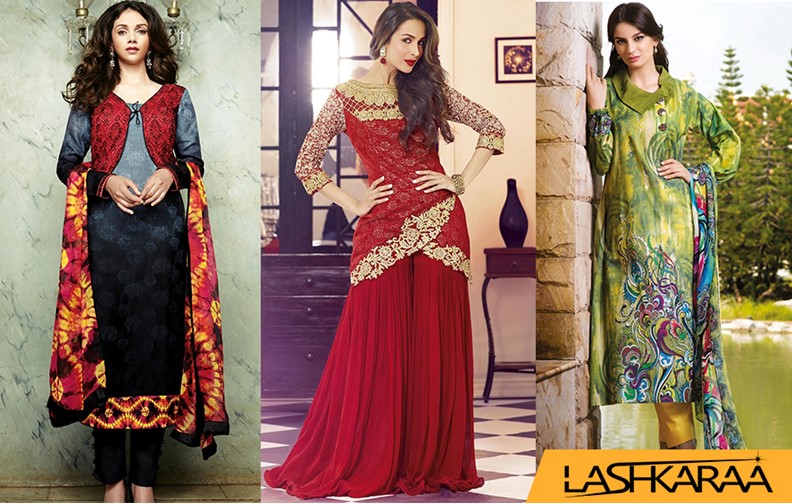 Pant Panache-Gone are those days when salwars and churidars were the only options in bottom-wear. Well, no longer! Palazzos have made a strong comeback, and we're glad of the trend. Sometimes we hate putting on skinny things and churidars which take ages to wear. Palazzos can be worn easily and you can't help but thank it for its sheer comfort factor. It screams comfort and we are ever so eager to lap it all up!
The asymmetrical kurta- It is known as the high and low kurta. Classic lines look mundane in comparison. It looks classy, and the flash of leg gives it an illusion of height. So if you want to look svelte and tall, you can embrace this style with alacrity.
The Patiala salwar- Salwars look lovely with short kurtas. Wear them with the classiest of kurtas and you are sure to rock any party or occasion you attend. It jazzes up any plain kurta and the best part is that it's so comfortable! Get one from each hue, as they are the best bets when you are in a hurry, yet have to look effortlessly stylish.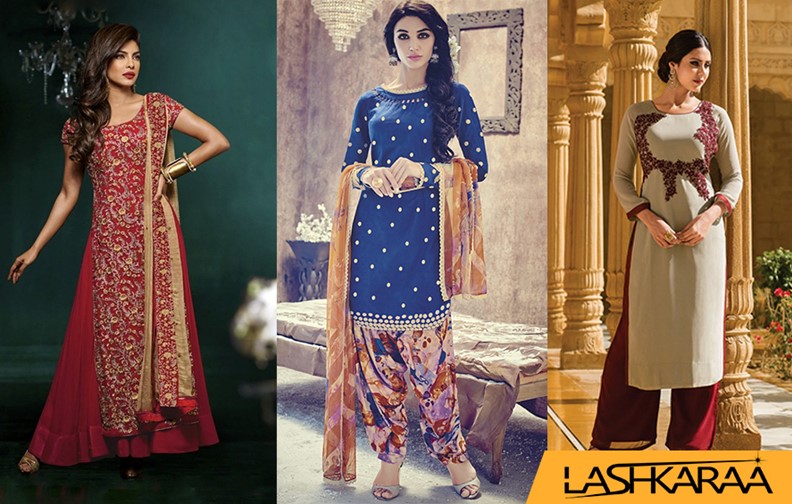 Women love shopping, and especially when it comes to a salwar kameez, it is difficult to stop them from going on a shopping spree. Buy a salwar kameez online for myriad options to choose from. What are you waiting for? All you have to do is just browse and buy!
Note: This article is sponsored by "Lashkaraa.com" and follows the guidelines of Google Quality Search TOC.