Khodabapa is a satsangi personality. He has spent years of his life in finding answers for some of the core questions related with inner journey of soul. He speaks in total kathiywadi Gujarati language, and even uses some local spiritual words which indeed has depth of its meaning.
I went with one question to interview him that "What is MIND and how can we control it?". I had elaborated the question that our mind is reluctant that it keeps on wishing for unlimited desires. In acquiring the desires, it keeps on wandering for days, months, years and sometimes entire life. So what actually our mind is? And how can it be controlled?
Those who speak & understand Gujarati would find this interview a worthwhile for the reason that he has given indeed in-depth explanation about my above question. It's not that he has 'answered' my question, but rather has meditated upon it and gave the explanation of our existence & its purpose.
Watch the video of Khodabapa's interview cum Satsang
Direct Youtube link: http://www.youtube.com/watch?v=26V9VNINAsM
Contact Khodabapa
Address: Khodabapa, 3 – Laxminagar, Rajkot.
Download E-books of Khodabapa's Quotes
Khodabapa Quotes – Gujarati E-book Download

[sdm_download id="11149″ fancy="0″]
=============================
Khodabapa Quotes – English E-book Download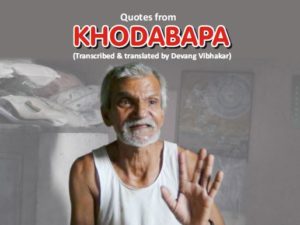 [sdm_download id="11153″ fancy="0″]