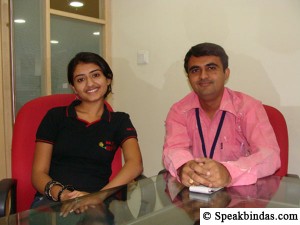 RJ Samina calls herself very mastikhor! She hosts the show 'Purani Jeans' in Radio Mirchi 98.3 FM in Rajkot. As the name says, she covers Purani but touchy themes on her show, like she says "We have a special flair for our old things like old dolls, old clothes, school days, college days, a plate of samosa with friends."
It's also interesting to know about how she got into the profession of Radio Jockey. And believe it or not, but her story has a relation with Stock Market! She talks on how she got into Radio Mirchi in the video below.During our interview, what I observed in her was he candidness. She was at ease and with flow of words. May be her profession of 'talking' helped her! She knew what she was talking about.
Speakbindas talked about many interesting things such as her favorite RJ, her favorite food, movies, hangouts and lots more. Enjoy the video. And she shares a very unbelievable hobby of her!