Pallavi Mistry born in 1958 in the city of Navsari is a humorist writer. At present, she enjoys her 'retired' life in Mumbai with her family. During her stay in Ahmedabad, she was engaged with Gujarati humor writing. She wrote in various mediums. Also got her 3 books published. Speakbindas had this very interesting interview of her, which sheds more light on her past career as a humorist. Generally, women are not the humorist writers, and she broke this pattern. Let us cherish her answers.
Speakbindas: Tell us about you. Where do you basically belong to and about your education.
Pallavi Mistry: I basically belong to India, and I'm proud to be an Indian. If you are asking about particular place then I was born and brought up in Gujarat. At present, I reside in Mumbai. I have acquired Diploma in Architectural Assistantship (D.A.A.).
Speakbindas: How did the love of writing started? And particularly for being a humorist? Pallavi Mistry: Favorite medium of correspondence was mail, especially postcards, incards, envelopes. When I was a child, my mom made me write letters to relatives, which culminated in to good writing style. However, writing in humor started after marriage, as my husband never used to read my articles. My hubby used to make people laugh through his speech which I converted into writing. I am thankful to my mom, my hubby and famous humor writer Shri Ashok Dave who encouraged me to write humor articles.
Speakbindas: How do you choose the topics for your articles? Is not being a humorist writer a tough job than being a normal writer? Pallavi Mistry: Keen and deep observation made me put my thinking into words, hence majority of my topics are based around current social events and episodes. Any creative act requires keen observation, mental skill and exercise as well commitment to convert thoughts and ideas into words, be it normal or humor writing. Speakbindas: So far how many of your books are published? Which are they? And how can we get it? Pallavi Mistry: My three books are published uptil now. 1. Hasyapallav, 2. Chhe Maza to Ej, 3. Hasyakalash Chhalake. You can get them from my publisher, "Gurjar", Ratan Pole Naka, Gandhi Road, Ahmedabad. You may also read them at M. J. Library, Ashram Road, Ahmedabad or Narmad Library, Godadod Road, Surat. You may ask few of my articles (Free samples – ha ha ha), by email too. My email id is, "hasyapallav At hotmail Dot com". Speakbindas: At present you live in Mumbai. How was your time in Ahmedabad where you lived for few years, and also how was writing career then and there? Pallavi Mistry: It was a Golden period of my career as humor writer when I was at Ahmedabad during 1980 to 2004. My journey started with humor column in 'Sambhav' named 'Patta no Mahel', which with medication was converted in to my first book, "Hasya Pallav", for which I got second prize from Gujarat Sahitya Akadami.
Speakbindas: Do you still write? If yes, other than humor writing? Pallavi Mistry: I wrote few humorous articles, two short stories. Now I stopped writing – except cheques and instruction to my family members, when moving out of home (smiles..)
Speakbindas: What are your hobbies? Your favorite food and favorite movies?
Pallavi Mistry:
Reading – Tarak Mehta, Girish Ganatra, Mahesh Yagnik, Kanti Bhatt.
Movies – Anand, Chini Kum, Munnabhai, Sarfarosh, Dil Chahta Hai and the list goes on…
Food – Indian / Gujarati food, only vegetarian.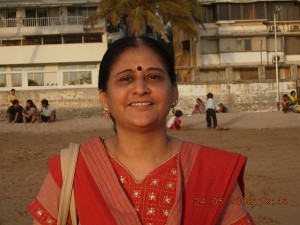 Speakbindas: Anything else you would like to add?
Pallavi Mistry: Sending my introduction as published by Radheshyam Sharma in his column in Sambhav.
Speakbindas: Your special message to your fans and Speakbindas readers.
Pallavi Mistry: My special message to my dear readers and fans is –
Follow the formula:
KMS (Keep Mouth Shut)
And if you can not –
TBS (Think Before 'u' Speak)
——————
Various humorous articles written by
Pallavi Mistry, for you to download and enjoy.

Table of Contents

Aamne to have shun Kahevun
Andhale Baheru Kutayun
Ek Lutara no Interview
Nam ma te shun chhe
Science na Vidhyarthi no Prempatra
Strio no Sanatan Prashna
Tathastu
Vechavani Chhe
Rita no AkarmYoga