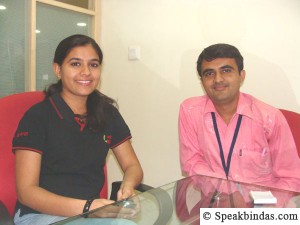 RJ Sheetal works in Radio Mirchi 98.3 FM at Rajkot station. She hosts a program called 'Khoobsurat' which focuses topics related to ladies.

Sheetal says "I have five sisters. So it's quite easy and routine for me to handle a show related to women, on Radio Mirchi." Aspiring to become a lecturer in college and now she is an RJ in Radio Mirchi. Her journey of becoming an RJ is very sudden. She didn't plan to become RJ, it just happened.
She has got this broad smile that makes you feel at ease. Her father liked the role of Vidya Balan as RJ in movie Lagey Raho Munnabhai.
Sheetal says "My Papa liked it so much. He just used to be very delighted watching her as an RJ. So I thought that if I become an RJ too, how glad my Papa would be! This was the only thought behind my career of an RJ."
In the video below, she shares some important tips to those who aspire to become an RJ.