RANGOLI – A COULORFUL INVITATION FOR NEW YEAR
In India Diwali is being celebrated by people of every religion. According to Hindu religion and traditions it's being celebrated with lots of crackles and lightning. It is also called DIPAWALI.
Rangoli is made by women of family to invite happiness and peace in life. In few places in south India women make rangoli daily, its part of their routine life.
They make different rangoli designs with chalk and making beautiful designs of flowers, animals, free hand designs and many more. It is an endless list to describe about designs of it.
Baroda is a well known and developing city of India in which before few days of Dipawali, rangoli competition is organized at a huge ground.
It is also called city of art. So, large number of people participate in the competition. Some people use colors which are called charodi colors, some people use different colored sand. But all are incompatible and unique.
Believe me, I have seen rangolis over there, I was speechless after seeing those beautiful hard work presented in form of rangoli by people. They have made Radha Krishna, landscape, free hand rangoli, in few rangolis, some messages were given. So, one can see variety of imagination which is transformed in beautiful terms of rangoli.
When I was living in town before few years in our residential society, on dipawali, every year rangoli competition was organized. At late night nearby 12 am, judges come and they were deciding winners. It was really fun. This tradition of rangoli is very ancient. But still youngsters respect this tradition. They are doing more innovation in that, like they are using flowers and oil colors also. Some people are making gods and goddess in rangoli and decorating it with colored stones, sometimes they are making their ornaments of flowers also.
Generally in any building inauguration, in inauguration prayer (pooja), rangoli is flowery designs is very popular, it looks really colorful and pretty.
Rangoli gives the message to all people to forget the sorrow and to welcome tomorrow, which will come with  lots of hope and happiness in everybody's life, it teaches us to be happy in all circumstances of life, not to worry, not to regret about past, just be hopeful for the hidden future.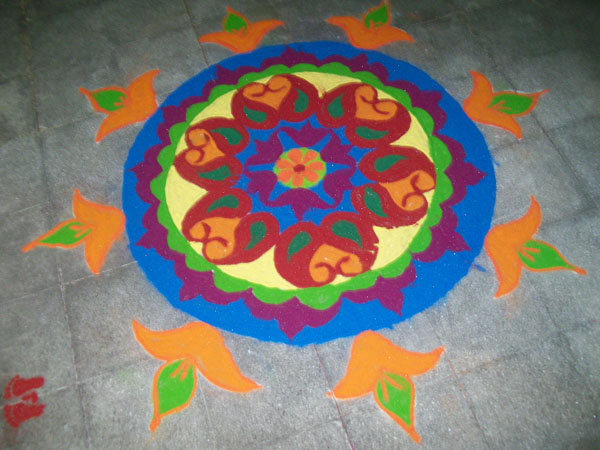 Rangoli was a favorite art of people in past and it will remain favorite in future because it's in Indian tradition and people of India respect and love their tradition. So may be one will see his children's children will make rangoli in 2050 too.