Take a lead
—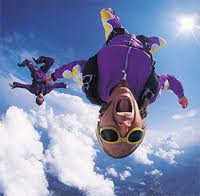 Our normal approach towards difficult situations is 'to complain'. Either we find it hard to solve that situation or we lack the power to take a lead or something else but instead of showing the courage to change, we complain about it by staying in our comfort zone.
The above video advertisement is not just an advertisement but a great motivational video (don't miss watching it) which tells us that instead of waiting for others to change the bad situation we must ourselves put our total efforts to change it.
Ad goes something like this..
It's a street having routine traffic of all kinds of vehicles. One day due to some circumstances a big tree falls and blocks the road from both the sides. Size of tree is so big that no one can move it. And no one either tries to do so. All kinds of vehicles like school bus, bikes, rickshaws and cars are jammed in this traffic. There is also the presence of police officers, who do nothing. Citizens too do nothing. Few do complain. Few to quarrel each other due to their stuck position in traffic.
Everyone notices the big tree fallen right in between the road. One of them is a little kid of age around five years. He steps down from his school bus and walks towards that tree. He looks around. He finds people doing nothing. His mind just can't understand why! And it starts raining, adding worse to the condition.
This kid, all of a sudden leaves his school-bag in the rainy water and starts pushing the mammoth tree. He attempts an impossible task. With his little hands he starts pushing the tree. It doesn't move even a thousand part of an inch. Everyone around watches this kid and wonders what is going on! They never saw something like this before.
Kid keeps trying alone. None of the adult persons join him. There are few other kids too who are having fun in the rain. They see this kid and immediately join him in pushing the tree with their little hands. They all are having fun and seem totally enthusiastic.
This makes everyone around surprised and little motivated or may be shameful. Few college going students do join these kids. Seeing them, people from other vehicles join and many a hands try pushing this big tree. With the collective work and with an example of unity, the big tree starts moving. And at last, they can move it at the side of the road. Blocked road is now clear. How? Well, someone took a lead. That kid gets his bag and goes back to school-bus.
This is one of the best motivational videos for teachers as they stay in live interaction with students for five hours every single day.
—
Some wait for OTHERS to do
Other just COMPLAIN
And some just DO IT
Some have COURAGE to CHANGE
Some MOTIVATE others to THINK
some CHALLENGE odds
some MAKE you REALIZE
some CHALLENGE your COMFORT.
So Your future in your hands………….. If you Take a lead.