Gurgan (HR), India (September 23, 2014) – Mobile market has become one of the easiest ways of shopping nowadays and we at PriceTree understand this very well. So to serve a better experience to our 34% android users we have launched android App on Google play store.
According to comScore's latest report on India, comparison shopping is one of the fastest growing web categories in the country.
Especially, the ease of use and growing smartphone industry, most of the people are using smartphone to get more detailed review and specification and best price of the retail products. There are a number of websites online that come up with the comparison of different electronic devices but does not have longer vision & mission. However PriceTree is innovating 2nd generation technology to gather prices and product information from thousands of stores and has a vision to make it a single platform for shopper and retailers. PriceTree users can compare prices, features and read experts reviews of all type of retail products with discount coupons for maximum saving.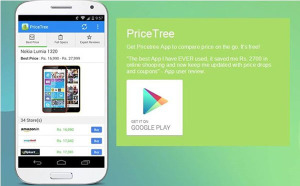 To download the App please visit:
https://play.google.com/store/apps/details?id=com.pricetree.android
Pricetree.com also help retailers to win in the competition by tracking how their competitors are doing, e.g. Price drop, price history, product life cycle and many more analytics report for retailers to help  make better business decision on the go now.
The online price comparison and review centre brings forth reviews of products on basis of several grounds. With help of the app users will be able to search out the products available on all the shopping stores across the virtual world and specification comparison to get a proper evaluation. And the price comparison, discount coupons which help in saving a lot of money in shopping.
The android app helps smartphone users in saving 60 to 70 percent on online shopping with discount coupons. The application also allows easy access to the list of millions of products from thousands of stores and makes the assessment easier than ever. This online store brings forth the discount coupons and offers, directly from the online store. In addition to that, buyers can also get hold of price history of the products along with brand names.
PriceTree – A Price Comparison Site: innovation on local stores increased our capability to make a better comparison shopping online & offline and helps in finding out local stores by sharing/searching the locations. Having this, people can also search out their favourite products effortlessly. Apart from the electronic devices.
To find the nearest local store/shop please visit:
http://stores.pricetree.com/