School Chale Hum Video song
Duration: 03:34 minutes
—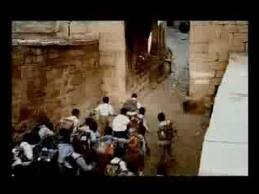 What an inspirational song. "School chale hum, badal sa barse hum". It is just amazing. The sun is set to rise, school bell rings and all children leave their home and go to school.
In the beginning of the song, children open the door, which means that they are unstoppable to go to school. A kid climbs the hurdle which comes on his way. It shows that whatever hurdle comes on their way, they will climb it and go for their destination which is their school.
Even the girls are going to school. The video gives us the message of education for all children weather it is boy or a girl. Both are important. Every child on this earth has right to education. Education makes your life with full of happiness and new experience. Education grooms the life. Education improves our life, it teaches us how to live the life.
By educating them, we give them the introduction about the world, the languages, the history, the people, the science, the art and lots more. "Education is most powerful weapon which you can use to the change the world" said Nelson Mandela. It is the weapon to change the world, to bring revolutionary changes the world. Children are the future of the world. They are the new generation of world, and it is their right to get education to know about their surroundings.
They should shine like the sun. Schooling is that part of life, which we can never forget. It has everything: studying, learning, having fun, and making friends. It is the best part of life. Education teaches us many things like discipline, increasing our knowledge and language.
Education improves our life by getting knowledge, knowing famous people in the world, various countries, various people, various inventions etc. Education moulds the life of individual, specially to those children who are unable to get education because of the ignorance in their surroundings.
Let's strengthen the message of "School Chale Hum."