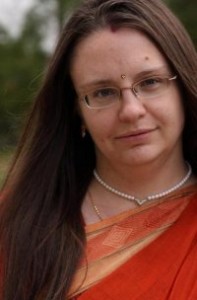 Jennifer Kumar, also known as Jayanthi, has been creating and maintaining a website about India, Hinduism, and spirituality since 1997. Jennifer has had the extraordinary experience of living two years in Chennai, India as a college student. Jennifer was the first American to earn a Master's degree in Social Work from Madras Christian College. Jennifer enjoys spending time with friends, family, coordinating and planning events, creating things with her hands (cooking, soap making, beadwork, sewing, etc.). Jennifer is currently enjoying her days creating her own income streams.
Speakbindas: Jennifer, welcome to Speakbindas. Tell us about you. Where you from?
Jennifer Kumar: Hi Devang. Thank you for giving me this opportunity to be a part of your website and interviewed alongside some impressive personalities already interviewed by you.
In short, I am Jennifer Kumar, an American in love with India, Indian culture and of course, Indian vegetarian cuisine!
Speakbindas: How did the love of writing started?
Jennifer Kumar: I have been writing since I could pick up a pen. My parents have collected all my stories and made a scrap book. Of course the stories of my childhood were short four or five sentences and talking about my family or my friends. I continued writing throughout school and into college. I have written all genres including fiction, non-fiction, poetry, short stories and articles for blogs, websites and college newspapers.
Speakbindas: From your website Alaivani.com, we learnt that you are maintaining a website about India, Hinduism, and spirituality since 1997. Tell us about it. How does Hinduism fancy you? In other words, what's your perception on Hinduism?
Jennifer Kumar: That is correct! Hinduism is a culture that fascinates me because it is diverse. It seems no two people really perceive or practice Hinduism exactly the same. It intrigues me that to be a Hindu one can be a believer of a god, different gods (really all the same god in different forms) or a believer of no-god or an atheist! It is this perception of god, religion and culture that I have tried to bring into my life here in America- the ability to try to see and test out different points of view. I do not want to become stagnant in my ways of thinking or reacting to the world. I want to experience all life has to offer, and that is easier to do when one can be flexible in the approach. It is this philosophy that I carry into my life.

Speakbindas: Which places you have traveled in India? Which are your favorite ones among them and why?
Jennifer Kumar: I am fortunate to have seen many areas of India. I am a proud graduate of Madras Christian College. I earned my Master's degree from there and while there I had the opportunity to visit many places in India, including Kanchipuram, Tirupathi, Hyderabad, Bangalore, Agra, Delhi, Shimla, Mumbai and other outlying areas of Chennai.
I also had the opportunity to spend about three weeks in two pakka villages in Tamil Nadu. That was an experience of a lifetime. It was there I was able to see the 'real Indian' life and also experience holidays such as Pongal.
I have also seen parts of central and South Kerala and Tamil Nadu- Kochi, Munnar, Allepey, Periyar, Kanyakumari, Trivandrum (do see my husbands photos of our trips here).
Speakbindas: You have full name as Jennifer Kumar. Now Kumar is an Indian name / surname. How come Kumar added with your name?
Jennifer Kumar: Kumar is the name of my husband. In 2005, Krishna and I were married in a traditional south Indian style Hindu wedding in USA. Since my husband's family is Keralites, it is only since marriage that I have stepped into Kerala.
Speakbindas: Which are the mediums you have written for? Like newspapers, magazines and websites / blogs?
Jennifer Kumar: Recently, an article of mine has been published in a book called Culture Shock, published by ICFAI publishers in India. It's very exciting to be part of a wonderful project like this! In the past, articles and interviews of mine had come in local and college newspapers. Online, other than my blogs (alaivani.com and blogger blogs), I have participated in Zine5, Hinduism About.com, Desi Pundit and friends blogs.
Speakbindas: We also visited your video channel on Youtube – http://youtube.com/alaivani which contains so many interesting videos. How do you manage time for shooting videos? And what camera you use for this?
Jennifer Kumar: Thank you, Devang. When I am inspired, I try to shoot some videos. Many of the videos are from our trips to Kerala and around America. Recently, I have started making videos of topics of interest like Indian culture and personal development.
I use the Nikon Coolpix S600 for shooting both videos and taking snaps. In addition to snaps, I have posted some of the same youtube videos in my flickr page.
It is interesting to note that some of the video quality is much crisper on flickr though taken with the same camera!
Speakbindas: Your favorite movies?
Jennifer Kumar: Good question, Devang! I really like Indian and Tamil films. My favorite of all time is Alaipayuthey, but I also really like Duet and Mouna Ragam. I also like few Hindi films like Sholay (who doesn't!?) and Hum Hain Rahi Pyar Ke. I have not seen many newer Indian films. Of course, because I am not fluent in Tamil or Hindi, subtitles are important. English movies I enjoy are Forrest Gump and many kids' films like Lion King and Wall-E.
Speakbindas: Your favorite leisure activities?
Jennifer Kumar: I love to spend time with my husband, and my family and friends. Together, we like biking, traveling, spending time in nature (especially in mountains or by lakes or seashores), watching Seinfeld or Fraiser or Akkara Kazhchakal (Malayalam serial of life in America, which is translated to me by my husband!), and we like to travel leisurely and take photos or videos of our experiences. I am also passionate about cooking Indian food, learning about Indian and world cultures and learning about the world from others!
Speakbindas: Favorite dishes?
Jennifer Kumar: Wow this is a loaded question, Devang! There are too many dishes to mention. Since I stayed for two years in Chennai, I prefer Tamil Vegetarian dishes, which I had learnt to cook since I came back to US. In Tamil cuisine, I like vatthal kozhumbu, any sundal dish, particularly chick peas sundal, pongal with sambar and vada, idli with dhal powders, rasam, drumstick dishes, curd rice with any pickle, though I like gongura and lemon the best, and the list goes on and on! Since I got married, and my husband grew up in Delhi, I have added North Indian dishes to my recipe book, and my taste palate. I enjoy eating chole masala, pani puri, pav bhaji and few others. I also like few dishes of Kerala, Andhra Pradesh and Karnataka. I would love to learn Indian vegetarian from all areas of India! There is just too much to learn! I do also of course like American foods, I really love macaroni and cheese and breakfast foods. I also like ethnic cuisines of Thai, Italian, Japanese and Chinese.
Speakbindas: A special message to Speakbindas readers.
Jennifer Kumar: I am happy to be a part of this growing site and am interested to know you. Devang, thank you for this unique opportunity and all the best to your endeavors on and off line!