Using clay and making wonders with it is the art of pottery. Generally, ceramic pots, wares are made from clay by potters.
A potter can make thousands of wares from raw clay, of different sizes, shapes and usages.
Pottery being one of the old human technologies in art. It is considered to be one of leading industries today.
I happened to visit such a potter and his potteries. His name is Mukesh Prajapati who is from city of Rajkot, Gujarat – India. He sells all clay-made wares such pots, kitchen vessels, lamps and many other earthenware.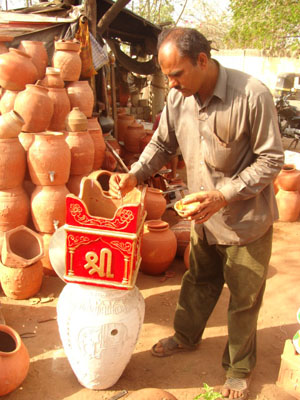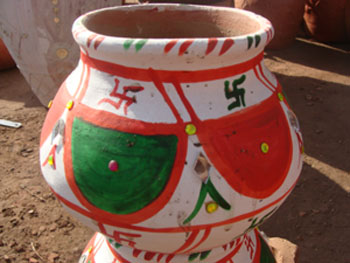 'Garbo' is another such an earthenware.  It is an earthen vessel with holes in its sides and a lamp burning inside. Mukesh Prajapati says that 'Garbo is on high demand during the Indian festival of 'Navratri". Navratri is a nine-day festival celebrate all over India and mostly in state of Gujarat, during which for these nine days on each day, people worship seven forms of 'Shakti' which is energy as Goddesses. Girls sing songs for Goddesses having such 'Garbo' on their head and dancing in circle to the statue of Goddesses.
In Potteries there was a big heap of frying-pans, which are locally known as 'Tavdi'.  It requires first giving shape to clay the way it seems in above image. Then drying it in sun and finally firing it up. Such 'Tavdis' are highly used in villages where till today people use desi-chullas (desi-stoves), which also is made-up of clay, and uses woods and dry-dung.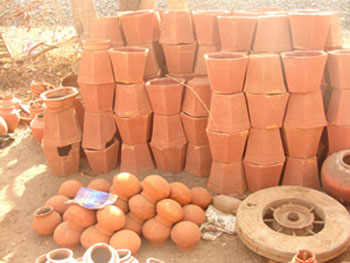 Mukesh Prajapti, also showed a big heap of various pots and earthen vessels.
I came to know that it takes few days to prepare them to the final condition when they can sell it, but the pricings are not that much as compared to the hard work required to make them.
So selling in quantity gives them sufficient earning.
People mostly buy pots for home-plants of flowers and decorative plants. Then comes the earthen vessel to keep water. During the summer in India, such earthen vessels are in high-demand because they are natural refrigerators. Water remains cool even during the hot-summer. And such drinking-water has a taste of soil too.
Indian potters also make decorative pieces, such as above lantern. It is decorative as well as useful, which helps during lights-off and fires-up using oil. Looks dashing and useful.
And when you happen to meet any Indian potter of old age, you would listen a story of 'cats and fire'. For me, it was indeed a good visit, knowing about real India in true essence.
Watch below video which shows their real talent of making wonders with clay. This video is taken by me, and I've added some beautiful music too, so stick your headphones your ears!