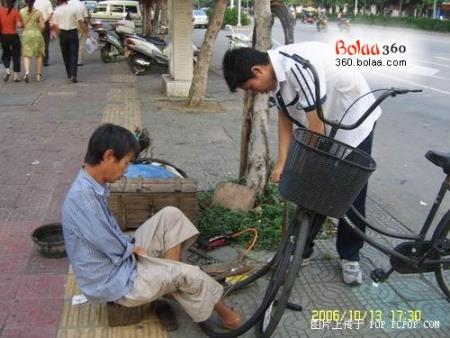 I remember, when I was a kid and had a bicycle, I used to try myself to puncture the bicycle tube. First of all, I couldn't make the perfect repairing of puncture, and secondly inserting and adjusting the same inside the tyre was quite a difficult job, though I used both my hands, with the support of both legs.
But some people in the world, do carry some extra ordinary faith in themselves, that physical limitations, do not stop them from doing some normal job that others with normal physical abilities can do.
You must have recently read such a story about Jessica Cox. She is an armless girl and inspite her such severe physical disability, she achieved the pilot license.

And now, here we have another case, mostly from China or Japan, who seems to be paralyzed. His both the legs and hands seem almost useless, and handicapped. But he repairs the punctures on roadside.

May be it's his weak financial condition that forces him to do something for living. But what he does tells us "Never believe what the lines of your hand predict about your future, Because people who don't have hands also have a future… Believe in yourself"



This is What Attitude Really Means.