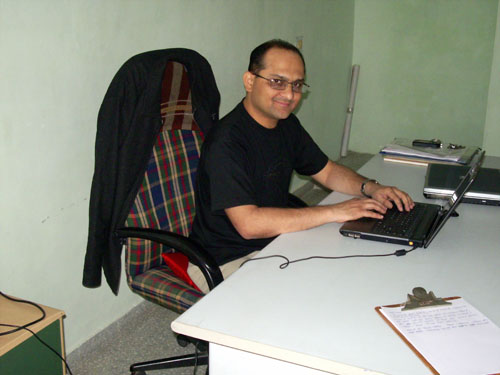 Meeting Sandeep K. Maniaar is almost meeting a bunch of energetic forces that grab you from all the corners. I get to feel an energetic, positive aura circling around him all the time. His face, eyes, body language and his words have the same energy level.
By profession he is an EFT practitioner. EFT means Emotional Freedom Techniques®, which deals with all physical, mental and emotional problems. Where emotional relief brings physical health, Self help method often works where nothing else will, No Drugs Involved ~ High Success Rate.
Mr. Maniaar is the only registered practitioner within the Gujarat, a state of India.
He has helped hundreds of humans solve their problems. "The best thing about EFT is that it solves problems within minutes no matter how serious they are or how old they are", says Mr. Maniaar.
Apart from EFT, he masters skill in fields of Tarot, Hypnosis, Mind programming and training, Spiritualism, Meditation.
Because he is different from common human-herd, here I've asked him some 'hatke' – out of the way questions.
Speakbindas: Tell us few things about you that people don't know.
Sandeep Maniaar: The first secret about me is I'm not having any educational background in the field of Medical Science or Psychology. But my interest led me to this profession. I was a student of DEE (Dip. Ele. Engg.) of BPTI Bhavnagar, but I left my studies of engineering just before my final exam of final semester… because I lose my interest in the typical studies.
Then I started my career as a "Ladies Tailor" (no envy please…) and started my boutique but after 4 years of the show I couldn't fit myself in the 12'x10' size shop. I was also attracted to Tarot Cards and with positive curiosity, I started learning the Tarot. Then I joined a job of direct sales (Door to door Marketing), after 6 months just left that job and started marketing of the accounting software, again changed and switched to other project along with my boutique.
Then I joined a marketing job in "Print Media"… also started my advertising agency… but there was no progress… in the meantime I started professional Tarot Reading, but I was in search of something unique, I've taken the training in Hypnotherapy, NLP, Mind programming techniques etc. and started Hypnotherapy and Hypnosis training as a main profession. And in 2003 on a beautiful day I came across to the Emotional Freedom Techniques® on the internet… I used it and learned professionally… finally equipped with EFT as a profession.
Speakbindas: Tell us something about EFT and its effects.
Sandeep Maniaar: I can say, EFT is the unique Healing Modality as well as the "World's fastest Mind Programming Techniques".
EFT was originally developed to reduce the therapy process from months/years down to minutes/hours. As emotional problems faded, both physical health and personal performance improved (often dramatically).
As a result, EFT is spreading quickly among the healing community. It is an emotional version of acupressure wherein certain meridian release points are gently stimulated by tapping on them with the fingertips.
It is a simple, rapid and remarkably effective approach to healing emotional disorders that is based on a synthesis of Chinese acupressure and Applied Kinesiology. There are no drugs involved and high success rate with EFT.
Speakbindas: The Roots of EFT
Sandeep Maniaar: In the late 1970s, psychologist Dr Roger Callahan combined elements of quantum theory, kinesiology and acupressure to begin healing patients with phobias and traumatic stress disorders. He used a system of different combinations of tapping points for different issues. This highly effective therapy was termed Thought Field Therapy (TFT).
Gary Craig, a Stanford engineer who studied with Dr Callahan, extended the concept by devising a set of all-purpose tapping points, which was found to be easier to learn and remember. He called his system Emotional Freedom Techniques, or EFT. Since it's inception, EFT has found favour with more and more practitioners of the healing professions–more and more licensed healers now use EFT as part of their repertoire.
Speakbindas: What's your take on current religions?
Sandeep Maniaar: Nice question Devang… first of all… what I believe about all religions of the world is something like "at present, they are not presented in their original format, they are manipulated by the disciples and followers. Main aspect of a religion is Spirituality and humanity but the religion became more ritualistic then realistic now a days". I was born in Jain family, but I don't want to claim myself a "Jain"… but rather I would like to be known as "Spiritual". Spirituality is the main aspect of all religions and their sects.
I believe in the energy. Energy is formed with Positive and Negative both. Thought is energy and energy is power, and it is because all the religions, sciences and philosophies with which the world has heretofore been familiar have been based upon the manifestation of this energy instead of the energy itself, that the world has been limited to effects, while causes have been ignored or misunderstood.
For this reason we have God and the Devil in religion, positive and negative in science, and good and bad in philosophy.
Science goes a little way in its search and stops. Science finds the ever-present Eternal Energy, but Religion finds the Power behind this energy and locates it within man. But this is by no means a new discovery; the Bible says exactly the same thing, and the language is just as plain and convincing: "Know ye not that ye are the temple of the living God?" Here, then, is the secret of the wonderful creative power of the "World Within."
Our Yogic way also defines the religion is "Self awareness" or "Consciousness" as real wisdom of the Humankind. So the real religion is "understanding the self". What do you think?
I agree with your explanation. Religion is not what it is presented today.
Speakbindas: How to increase our self-confidence?
Sandeep Maniaar: There is no prescribed formula to increase our self-confidence. Rather I would say, Just look within and see yourself as a person with "Self-confidence"… everything is within. Simply you need to accept it.
Speakbindas: Your take on money.
Sandeep Maniaar: Money… I like this question most because I'm "Money-Yaar".
"Where there is a will there is a way… but where there is money there are so many ways."
Speakbindas: Why do you think people are so unhappy these days and looking for peace, even rich ones (for that matter if richness is meter of happiness)?
Sandeep Maniaar: The real reason is People are lacking of "Self Awareness"… that's all.
Speakbindas: Coming down to at ease now. What are your hobbies?
Sandeep Maniaar: My main hobby is having so many hobbies.
Mountaineering, esp. Rock-Climbing is my passion. I love all the adventure sports like paragliding, white-water rafting. Also love Nature, Photography, Long Drives, Poetry, Painting, Psychology, Para-Psychology, Occult, Technology, Astronomy, History, blah… blah… blah…
Speakbindas: Your message to youth.
Sandeep Maniaar: Think your "self" first…
—–
To know more about Mr. Sandeep K. Maniaar, you can visit his website  http://www.emofree.in